When We Design a Website, People Say,
"That Was Worth Every Penny"
Step up your game and transform your brand appeal.
Win more business with a faster, better looking site.
Website Design

Websites That Work
People refer us because we make professionally designed, modern, eye-catching sites that work.

Design Consultation
Is it time for an upgrade? Do you need a website for a new or existing business? Talk to an in-house design specialist.

Best Pricing Guarantee
We promise to design and build you a high-performance site at a more than fair and reasonable price.
Does Your Website Look Like It's Straight Outta the '90s?
Whether your site needs a refresh, an upgrade, or something built from scratch, our in-house graphics team is here for you.
If you believe a compelling website is crucial to converting even the best traffic into valid leads, then let's talk.
Our graphic team designs SEO-friendly, mobile-optimized websites that also achieve industry-leading, higher conversion rates.
Our services include:
Web design
Logo creation
Landing pages
Infographics
Branding materials
Watch How Our Step-by-Step Website Design Process Easily Brings Your Vision to Life
Designing a website is usually a big headache, but not with our team
See why.

Brainstorm
We assess your goals and learn about branding ideas such as messaging, fonts, and colors.

Analyze
We study industry trends and competitors to build a best practices guide & framework.

Design
We design using Adobe and share mockups in real-time on your browser for comments.

Develop
We help you aggregate and publish your content so that the burden is on our shoulders.

Optimize
We code your website to achieve higher rankings, more traffic and faster page load speeds.

Go Live
After going live, you receive a tutorial guide that will help your team update your new website.
Get a Website that Is Tailored to Your Needs
We provide the full range of agency services to help you build a beautiful new website or redesign your old website.
Our in-house design team has built hundreds of websites for law firms, doctors, businesses, real estate firms, manufacturers, nonprofit organizations and ecommerce retailers.
No matter what your business, we can create a website that reflects who you are.
We are proficient in WordPress, Adrecom, Shopify and Magento. We have generated more than $50 Million in sales revenues for our clients. Call us today @ 877-736-4050 for more info about web design in Phoenix AZ.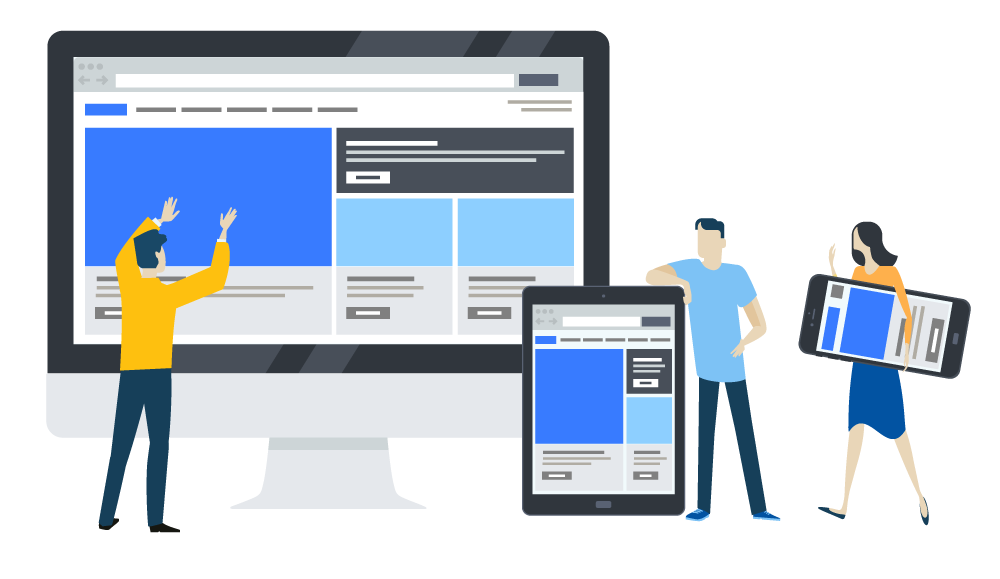 Frequently Asked Questions
What type of costs should I expect?
When a designer starts a site from scratch, the first page is usually the home page. This is where the bulk of the creative effort is made because the process involves developing a unique concept specifically for your business based on discussions, analysis of other sites in your competitive space, and industry standards.
The initial step is to prepare a layout with a design and color scheme that will provide a consistent look throughout your site. Then we have to implement a navigation flow and build a mock-up for you to review. Then we take this and start integrating the concept into the rest of the site. All of the work getting to this first stage of a completed home page requires a far greater amount of time as compared to building the rest of the site.
How long will it take to design a website?
For most projects, the entire development process, from receipt of the down payment to signing off on the final project, can be anywhere from 1 week to 8 weeks. Other than the sheer size of a web site (i.e. number of uniquely designed web pages) there are basically TWO FACTORS that affect the overall time frame for a web site design project: how fast the client responds to inquiries and how many changes are made between each rendition.
Will I see results in stages?
Of course! We are firm believers in staged deliveries. We know what it feels like sitting for a portrait just waiting and waiting to see the final picture and if isn't hard enough sitting still trying to smile while the painter fills out the canvas it is doubly harder keeping the anticipation at bay. Therefore, we create a private directory on our site just for each client where you can see how the design is progressing, and make any comments and suggestions to get it looking exactly like you want it. If you decide to have us host your site, we will actually develop the site on your account. This will enable you to view the latest additions and changes to your web design project.
Who will own the finished website?
Depending on the situation, in most cases, the client owns all the rights to the design, graphics, and code. There are no surprises with ownership because the design agreement clearly spells out who owns which rights. We even send you all the files we used in development so you can make the changes you need! All we ask is the right to post a screenshot and description of your site in our digital portfolio.
Can I make revisions once the website is live?
Yes, we suggest that you are constantly updating content and websites to keep up with search engine results and current trends. Your website will become more search engine friendly the more you update it.
Get Visible With Our SEO Experts
If your website isn't optimized with the right SEO techniques, you're leaving money and traffic on the table.